TPO will deliver a range of world-class, internationally accredited technical training programmes, tailored to meet the needs of the oil and gas industry.
We will provide a suite of industry-standard, competence-based training programmes which accelerate the development of skilled and competent technicians. This will include a variety of streams for High School leavers, diploma holders and upskilling for existing employees.
Our team of multinational industry training professionals have years of extensive oil and gas international best practice experience, working with some of the world's largest energy sector companies.
Our programmes will equip Omani nationals and international delegates with the necessary skills and qualifications to enable them to make an immediate and valuable contribution in the workplace, with a vastly accelerated route to autonomy.
Our training programmes will offer recognised skills and professional development pathways to international standards of best practice. We will enable delegates to achieve:
NVQ level 1 – Foundation level skills, including language skills, technical maths, health and safety and business behaviours
Our foundation programme provides underpinning knowledge and skills which support delegates through their learning journey. This phase is focused on embedding language skills, technical maths, health and safety and workplace behaviours before progressing to the technical elements of the programme.
NVQ Level 2 – Performing Engineering Operations (PEO)
PEO is our introductory technical engineering programme for delegates starting out on their engineering career. It covers the basic concepts and hand-skills required to become competent engineering technicians within the oil and gas sector.
NVQ Level 3 – Production Training and Discipline Specific Training
Through the use of practical training in a replicated and simulated environment across our process training plants, delegates achieve a diploma in either:
Processing Operations
Electrical Maintenance
Mechanical Maintenance
Instrumentation Maintenance
Duration 
Our programmes will offer maximum flexibility and alignment to individual requirements. Programme durations will run from 12, 18 and 24 months depending on the entry level of the delegates.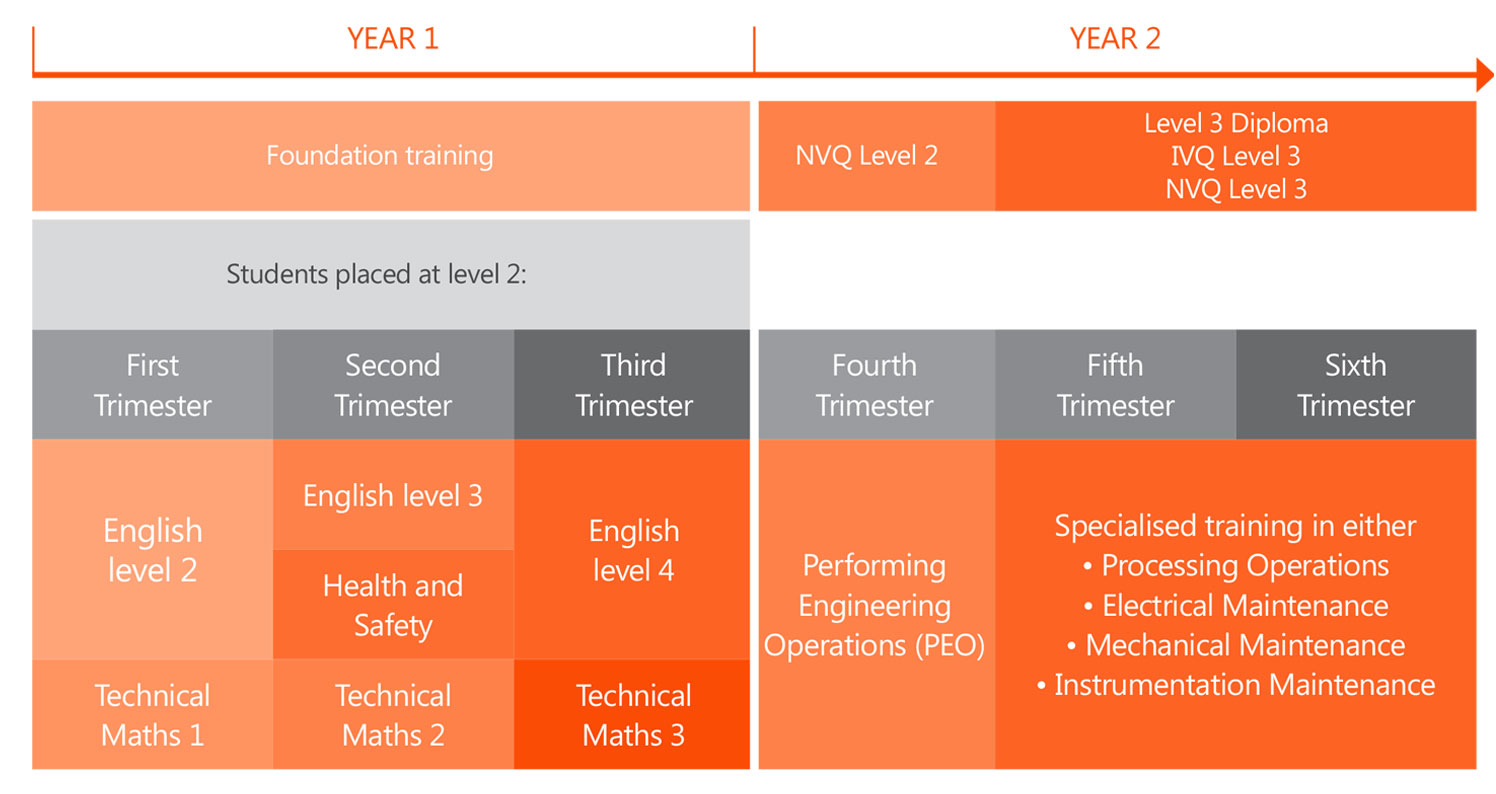 (Click image to view high quality version)
Courses run for 7 hours a day, 5 days a week. Trimesters last 70 days with a total of three trimesters a year.
For further information on our courses download our brochure.